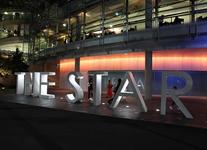 The Star
80 Pyrmont Street / Pyrmont (Sydney) NSW 2009 ,Australia
+61.2.9777.9000
Recently refurbished from the old Star City casino, this new version is the second largest casino in all of Australia. It rivals the Crown Casino and their Entertainment complex!
The 2 gaming floors at The Star are two separate areas to enjoy for gaming. The ground floor features 1500 electronic games, 30 poker tables, and a great selected range of other table games. The second floor is called the Sovereign Room and is a VIP area catering to a more professional hi-roller clientele with serious betting limits from $25 up to a whopping $500K!
The dining hall is quite huge and offers meals for every taste. The selections range from all-you-can-eat favorites. The best part are the exclusive dining treats within a selection of 6 themed restaurants and 6 casual dining areas including the grand dining hall. There's even a disco club and music stage among the 7 extra bars that you'll find within The Star.
With Hotel accomodations, rooms, residences and private penthouse suites available, The Star is a complete casino and entertainment complex. Heck it's even kid friendly (sort of) with the Dessert Train delights of Adriano Zumbo's Sweet store. Think of Sushi boats with sugar-laden goodies. Gotta keep the rush going somehow!
The best is that The Star is located in Sydney at the Pyrmont Harbour and has all the bells and whistles that Las Vegas would offer. Perhaps even better?